Emily Dorio: The Emulsion of Art and Life
Mar 06, 2023
Emily Dorio Interview: The Emulsion of Art and Life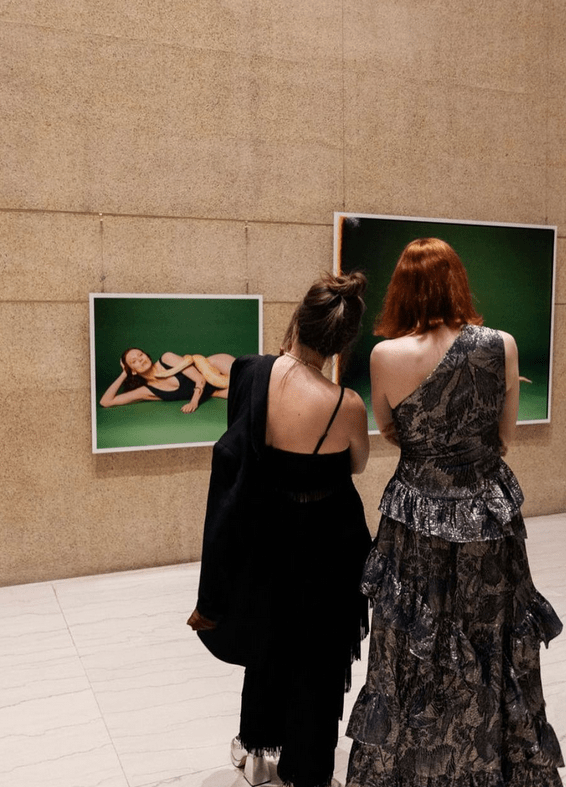 Coming off the high of your recent show See You Me, it feels natural to start off with that.
How did it feel to see your work printed and displayed for the first time?
It was incredible. I really spun the roulette wheel because of the timing of the work and when we were making it. Almost all of it was on film, so it added more to the timeline of getting things processed, scanned, and then making selects. Chromatics only had really two weeks to print and mount twenty-five images on a super large format. When they were unveiled, it was such a thrill and a high. It's powerful to see something you've spent a lot of your physical and emotional energy on in tactile form.
What made you decide to shoot film for this project, and how do you feel that added to the quality of the final product?
Film is such a beautiful medium, and it's such a privilege to shoot it because I'm a commercial photographer. Boutique Film Lab processed and scanned all the film; they did an amazing job. The theme of this project was really about the feminine divine and her stepping into these ideas of women goddesses (specifically in a Greek and Roman kind of way), exploring all of the ways that women can be seen. The film really pushed that narrative in a way that digital never could have. One of our images is called "The Fire Is Always Inside of Me," and there's a light leak and an emulsion tear at the one-third mark of the framing. She's standing there in a really powerful pose; and where the emulsion burn and light leak is, it looks like a tiny flame. It's like the film becomes the other creator or participant in a way.
I love that you shot film. I could still sense your commercial style, but the images felt candid, which I think speaks to the connection you have with Karen. Was it sort of freeing, in a way, to make this work, and do you think it might have an influence on your commercial work going forward?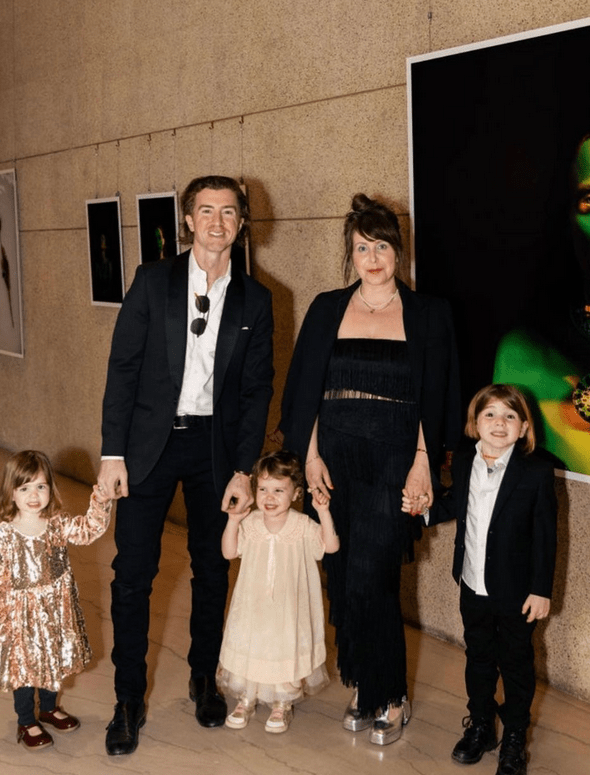 It changes the work in that I want to do more of it. I am the photographer, but often I feel like I'm just a technician and I'm just there to bring someone else's idea to life. I think we told a story that was waiting there to be explored. We're both women, we're both mothers, we're both in our forties. I couldn't have told this story twenty years ago; I didn't have the perspective. She and I both kind of walked into it carrying the experience, aesthetic, and technical skill. There were things we found interesting about old shoots that we never really had a place for, and we kind of played them out but from a woman's protagonist angle. It was incredibly powerful, but also what an honor. Karen is a friend, but she didn't have to ask me to make this work with her.
You can see the connection and how comfortable she feels in the images. I get the sense that she's looking at a friend. You can feel the warmth in it.
I think there's an intimacy from our friendship that made these images possible, but I also think these images are possible because, within a friendship, you have the ability to be really honest and say no. Karen is so hard working and will put herself through the ringer if that's what the job entails; but I think the intimacy is there because we both felt safe, not just to say yes, but also to say no—like this isn't working or we have to move on kind of thing.
---
What was one of the first moments you felt compelled to start taking pictures?
My mom used to take pictures of us when we were children. She had a Pentax ME Super that actually became my first camera. My brother took pictures of my grandparents at their 50th wedding anniversary, and there's a picture of my grandmother reapplying her lipstick. My grandfather is looking out of the corner of his eye like he sees my brother is taking the picture, and he's smiling. It's one of my favorite pictures. I think when I saw that picture, I thought, I want to take a picture that looks like that.
I'm not from a place where people are photographers. I'm from a small town in north Georgia where most people are bank tellers, school teachers, nurses, and those things are amazing, but I didn't know that my show at The Parthenon was ever a choice or anything that could ever happen for me. I didn't dream about it. Even six months ago, I didn't think I was going to have an art show. I've never had an art show before.
What was your break or turning point in photography?
I moved to Athens, Georgia, and was thinking that maybe I could go to art school but got into photojournalism school (which wasn't what I wanted to do). Really, the turning point for me was getting a job at a restaurant. It changed my life forever in the best way. The chef was really good friends with Jim Fiscus, who is a very successful commercial and fine art photographer. He shot all of the campaigns for Dexter and most any show for Showtime. He was doing these big art campaigns, and he let me come work for him, not as a first assistant or a second assistant, but in the production office. [He] kind of let me see behind the curtain. I think that was when I first realized that you could shoot other things besides weddings or for magazines. I'm inspired by other photographers, but for me, my mother and my brother planted the seed, and then Jim blew the doors open.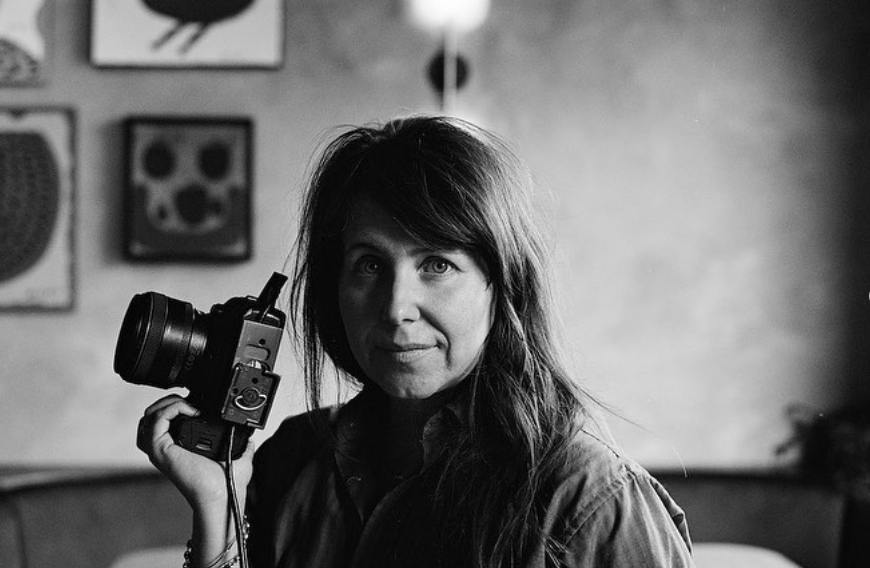 What are some of the things you've learned about being in this industry?
One of the best pieces of advice I got was from Jim. He said, "The things that you love to shoot aren't going to pay you any money." He wasn't wrong. That was something he instilled in me pretty early on—that you've got to supplement the art with the work. I'm someone who isn't above any job, and I believe that one job always leads to something else. I think if you show up and you are kind and collaborative, then maybe you'll get called back to do more.
What did it mean to you to have your work printed locally here in Nashville?
It meant a lot. When I first moved to Nashville, my first job was working at City House as a waitress. I left Athens and wasn't sure there was going to be work here to sustain me. I worked there for a couple of months and just made the leap into doing this full-time. I've been here for ten years, April 17th.
Of course along the way, I had thoughts about having an art show, and when people would have things printed large-scale, it was always "Chromatics is the only place in town that can print something artfully." I'd heard that for ten years but never had a reason to have anything printed and mounted. The first thing I had printed, Mike [Chromatics' founder and former owner] was my contact. I told him I needed a giant portrait printed. It was in a short amount of time, but he was really incredible and generous and made it happen. I told him there are murmurings of a big art show; I'm coming back, but I don't know the details yet or when.
From my first phone call with Mike back in October to my first meeting with Trudy, everybody took really good care of me, and they were excited about it. I feel like they were rooting for my show, bending time and reality to make it work. It wouldn't have happened without everybody on the Chromatics team, and especially Susan and Trudy, saying yes to my unreasonable timeline. It was an honor to have the show, and it was an honor to have Chromatics print my work. They went above and beyond.
Well, let me say that it was a collaborative effort. You had Janet printing, Terry and Michael mounting and packaging, and Trudy and Susan working with you on those timelines. Seeing the talent here is incredible. All of us are passionate about what we do. I'm so glad you got a product that you were proud of, so thank you so much for using our services.
See more of Emily's work here: www.emilydorio.com
Interview Credits: Jamie Goodsell